Being a Purina Certified Expert Dealer means that we offer a complete line of quality Purina feed products and have knowledgeable associates who care first about our customers, and their animals. Training is a key element for our Certified Expert staff and you can depend on us for Certified Expert advice!
Expert Articles & Advice
May 1, 2013
For some horses, the advent of spring means that the source of forage changes from hay to fresh grass. If this is the case, the horse owner should take care to minimize the risk of laminitis as horses are exposed to fresh pastures. Why can fresh grass cause laminitis in horses?
May 1, 2013
Quite often, your soil can be either too hard or wet in the spring to even consider trying to plant. Eventually you'll be able to plant something, but when? Willi Galloway of eHow.
Special Offers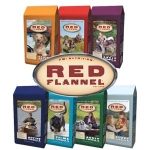 As a part of our customer loyalty program, we are offering buy 8, get 1 free on Red Flannel dog foods!
Purina Livestock Videos
Purina Layena Plus with Omega adds the Omega-3 fatty acids in your eggs. Healthy poultry means a healthier you!
Quick Contact & Hours
Mon - Wed
8:00 am - 5:00 pm
We'll be closed on Memorial Day, enjoy your holiday!